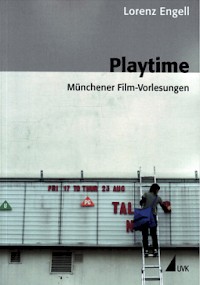 Lorenz Engell
Playtime. Münchener Film-Vorlesungen
Konstanz: UVK 2010, 296 Seiten, broschiert, ISBN 978-3-89669-677-9
Filme werden nicht nur gemacht, sondern sie machen selbst, sie behandeln nicht nur, sondern handeln selbst, sie werden nicht nur gespielt, sie spielen selbst: Playtime.
Filme entwickeln eigene Absichten und Ansichten. Sie sind eigenwillige Anordnungen, die Menschen, Dinge und Zeichen umfassen. Sie organisieren Licht und Klang, Zeit und Raum.
Filme geben außerdem Anordnungen, diesseits und jenseits der Leinwand. Analysen herausragender Filmwerke von "Birth of A Nation" bis "Eternal Sunshine of A Spotless Mind" versuchen hier, diesen Anordnungen einzeln und aufmerksam nachzugehen.
Filme fordern aber auch eine neue Art des Respekts vor dem bewegten Bild. Geschichte, Theorie und Analyse des Films haben wir nämlich immer dazu benutzt, unser Wissen über Film fortzuentwickeln. Der Film war unser Objekt. Jetzt aber soll es darum gehen, das Wissen freizulegen, das der Film selbst erzeugt und verkörpert. Die thematischen Vorlesungen skizzieren, was der Film weiß: über Welt und Mensch, über Geschichte, Glück und Gedanken.